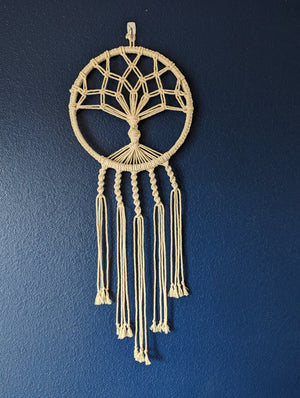 Ivory macrame wall hanging - 30 in diameter.  The oak tree is a symbol of strength, wisdom, vitality, and healing. This...
Learn more
Colorado Local Green Witch
Red Cat Apothecary products are handmade in Colorado. Whenever foraged plants are used, that will be called out in product descriptions. Energetics and intentions are woven in as a part of the practice of making Red Cat products, leading to a more potent and robust outcome. 
Upcoming Events
Find Red Cat products at upcoming events.
(Stay tuned, coming soon!)
Change and growth are cataclysmic experiences. With so much going on, not just with my inner work but in the world, I felt like I needed help getting through and releasing when I didn't have time to lay on the floor and cry! This is the third mala I have from @redcatapothecary! Stevie puts such love intention into all their products and I am a frequent purchaser!
@idontbelieveintarottarot
Stevie recently shared her Get Your Glow On Sea Salt Scrub on IG, and as I was heading to the beach the following week I jumped on it, to be able to exfoliate before getting my tan on 🙂 Not only was Stevie able to get the product to me incredibly quickly, the scrub was spectacular!! It smelled HEAVENLY in the shower, the balance between the oils and salts was perfect, and my skin felt incredible afterward... and was definitely primed for the beach. You will not be disappointed with this scrub!! 😁 (price was TOTALLY reasonable as well!!)
Genevieve Shuler
After discovering Red Cat Apothecary's magic hand salve, I was in a near state of disbelief one morning after applying it to my hands the night before. I used to use a carousel of different lotions, creams, and salves to try and keep my hands in good shape. I'm so pleased to have finally found something that does everything I need it to, in a single salve. Unsurprisingly, I've experimented with Magic Hands on other areas of the body and found it to be just as good, especially on major joints like the knees and shoulders. A huge bonus is being able to support a small local business, whose products are created by an actual herbalist who trained at one of the most renowned herbalism schools in the country. If keeping your hands in great shape is a priority for you, I can't recommend Red Cat Apothecary's Magic Hand salve enough!
Joe Donnellan
About Red Cat Apothecary
Red Cat Apothecary is run by me, Stevie, named after Stevie Nicks. My philosophy is that there should be some fun in everything that you do. Whenever music is played, I get the urge to dance. I enjoy tinkering, asking why, solving puzzles, hands on projects, volleyball, playing guitar, hand lettering, reading, and laughing.